Berry Cheesecake
fruity, creamy, cheesy goodness!
PECANS:

¾ cup

DATES:

¾ cup

COCONUT OIL:

2 tsp
BLUEBERRIES:

1 cup, fresh

AGAVE SYRUP:

¼ cup

LIME JUICE:

1 tsp

VANILLA EXTRACT:

¼ tsp
PRE-HEAT

oven to 350°F

BLEND

pecans, dates, & coconut oil in a food processor until small bits remain & it forms into a ball.

PRESS

crust mixture into the 6-inch springform pan carefully & distribute with your fingers. *tip: use a small glass or back of a spoon to reeaaally press it down & let some crust come up the sides.

BAKE

for approx. 10 min.

ADD

milk, agave syrup, & agar powder into a small saucepan over medium-high heat. Bring to a boil while whisking. When it boils, lower heat & simmer for 2 min. while you keep whiskin'. Then remove from heat.

ADD

Spero Sunflower Cream Cheese

into a separate bowl & add the milky mixture in little by little, mixing with a spoon. Once mixed, pour over crust.

TAP

(gently!) the springform pan on a counter to remove bubbles inside cheesecake mixture. Set the pan aside on the counter to cool for 20 min. uncovered before covering with foil & placing in the fridge to chill for 6 hours or overnight.

MEANWHILE...

prep the blueberry compote! Heat a small saucepan over medium-heat. Add blueberries, agave syrup, lime juice, & vanilla extract. Stir to combine.

COOK

on low heat for approx. 6-7 min. It'll become nice & saucy. :)

REMOVE

from heat & let it cool.

REMOVE

cheesecake from springform pan & transfer to a plate once set.

TOP

w/ prepared blueberry compote. Slice & serve chilled.

INDULGE

in your new fave creamy, dreamy cheesecake!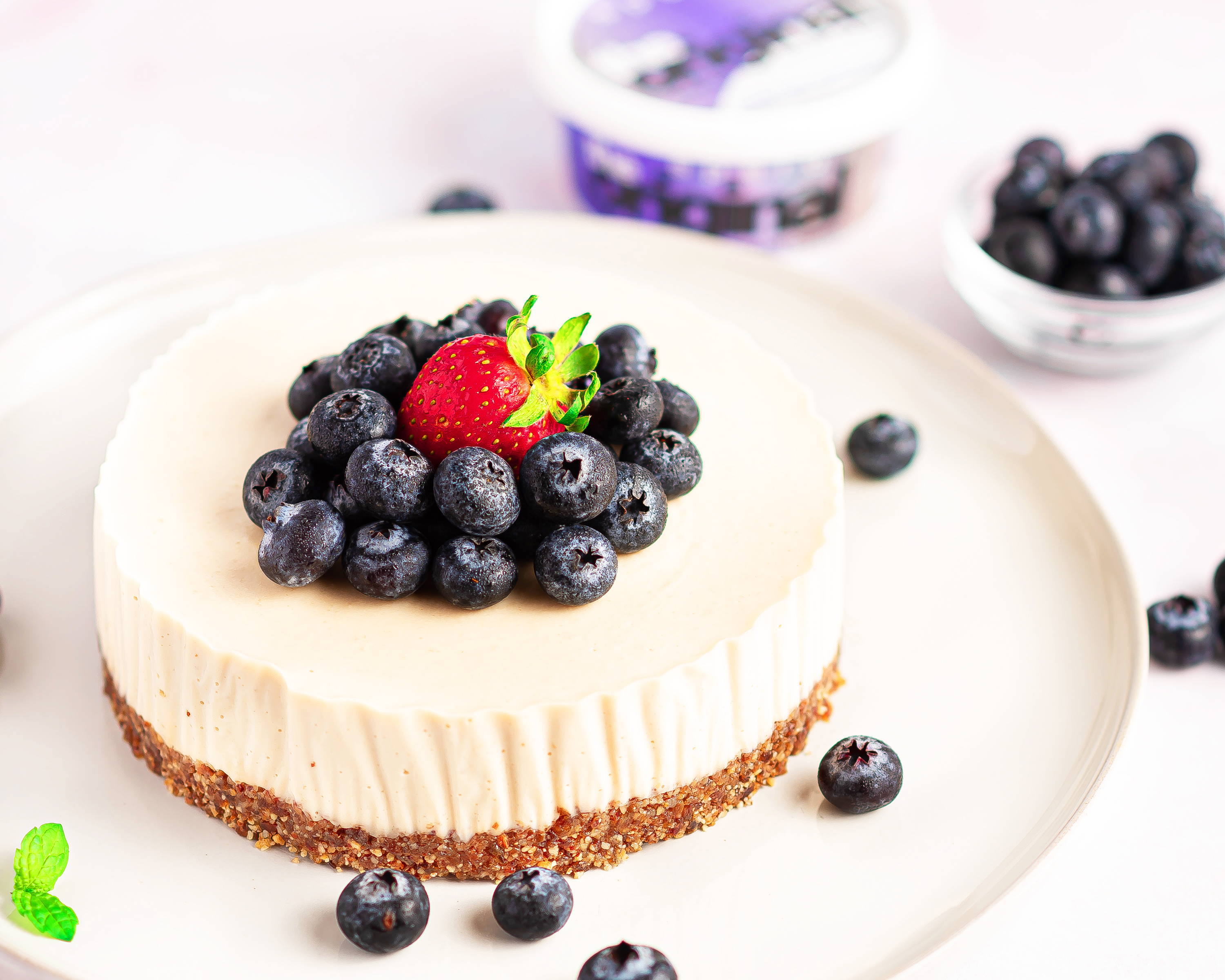 do you have a recipe to share?