Cauliflower buffalo wings - Pepita Egg
Cauliflower Buffalo Wings
Crispy, Crunchy outside. Tender, umami inside.
Spero

Pepita Egg

: 1 cup

Unsweetened almond milk (for The Egg mixture): 1/3

cup

3-5 large heads of cauliflower

Flour (gluten free flour also works):

1 1/2 cups

Paprika:

1 tsp

Salt:

1/ 2 tsp

Lemon pepper:

1/ 2 tsp

Oil (filling about 1/2 of a small to medium size saucepan):

3-4 cups

Buffalo wing sauce (any variety will do):

1/3 cup

Chopped green onions:

1/4 cup
REDPEPPER CREAM CHEESE AIOLI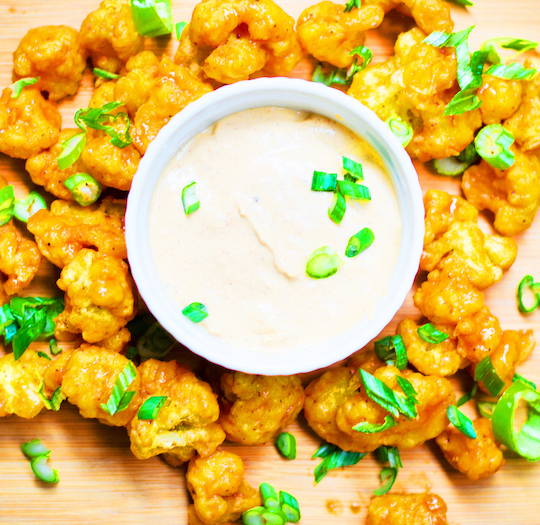 1.
FILL
a small saucepan ⅔ full with water; bring to a boil
2.
CUT
cauliflower into small pieces, about 1-2 inches each
3.
ADD
cauliflower to boiling water and cook for 3-5 minutes, until cauliflower becomes slightly more transparent and less white
4.
SCOOP
out cauliflower and set on paper towel to dry, pat to dry
5.
Fill

another small saucepan ½ full with canola oil, turn to medium heat
6.
MIX!

In a small and shallow bowl, mix flour, paprika, salt, and pepper. Set aside
In another small bowl, mix Spero The Egg and almond milk. Combine well
7.
PLACE!
As the oil heats up, place small batches of cauliflower into The Egg mixture and then into the flour mixture. For extra crunch, repeat to coat the cauliflower again with The Egg and flour
8.
DROP

in a piece of cauliflower. If the oil is hot enough, it will start to fry and small bubbles will surround the cauliflower. If there are no bubbles, wait a few minutes and try again
9.
FRY

batches of cauliflower, small enough that no pieces are covering one another and you have a single layer at a time.
10.
REMOVE!

When they turn slightly golden brown, remove them with a slotted spoon (caution, very hot!) and set them on a cooling rack or another paper towel to dry and cool
11.
REPEAT

for the remaining cauliflower
Once they have slightly cooled, add all cauliflower into a bowl and drizzle with buffalo sauce. Toss to coat all pieces evenly.
1.
COMBINE!

In a small mixer or blender, combine remaining water, 1/2 tsp of the black salt, and Spero Redpepper Cream Cheese.
2.
TOP
with remaining black salt and sprinkle with chopped green onions