Fudge Brownies with Chocolate Chips
chocolate cream cheese fudge brownies
This decadent chocolatey fudgy brownie is the perfect treat for brownie and cheesecake fans alike!
ALMOND FLOUR: 3/4 cup
CACAO POWDER: 1/2 cup
BAKING SODA: 1/2 tsp
SALT: 1/2 tsp
PLANT-BASED EGG: 8 Tbsp
COCOA POWDER
COCONUT OIL: 1/4 cup , melted
PURE ORGANIC CANE SUGAR: 3/4 cup
VANILLA EXTRACT: 1 tsp
NON-DAIRY MILK: 2 Tbsp
NON-DAIRY CHOCOLATE CHIPS: 1/2 cup, plus more on top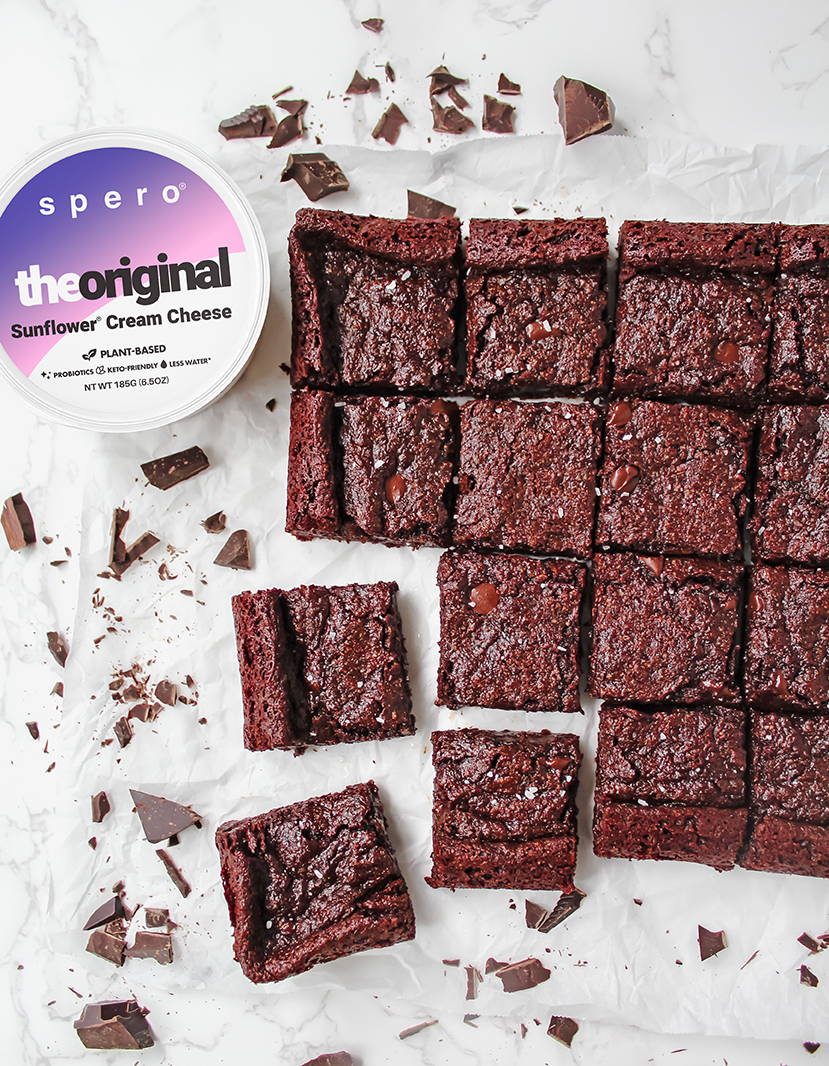 PREHEAT oven to 350 degrees F. Line a 8x8 inch square pan with parchment paper.
ADD the almond flour, cacao powder, baking soda, and salt in a large bowl, whisk until well combined.
ADD plant-based egg and Spero Sunflower Cream Cheese, cocoa powder, coconut oil, sugar, vanilla, and milk in a large bowl, whisk until combined.
ADD wet to dry. Use a spatula to mix until just combined. Don't over mix. Fold in chocolate chips.
POUR batter into the lined pan (it will be thick). Spread the batter out evenly and sprinkle extra chocolate chips on top. Bake for 30-40 minutes, or until set. It will firm up more as it cools. Cool on a wire rack and then transfer to the fridge to cool for a few hours. Slice and enjoy!