Chocolate Cake
Decadent chocolate cake layered with rich chocolate frosting.
serves 12.

UNSWEETENED ALMOND MILK: 1 cup
APPLE CIDER VINEGAR: 1 tbsp
ALL PURPOSE FLOUR: 2 cups
GRANULATED CANE SUGAR: 3/4 cup
COCOA POWDER: 3/4 cup
BAKING POWDER: 2 tsp
BAKING SODA: 1 1/2 tsp
KOSHER SALT: 1/2 tsp
OLIVE OIL: 1/2 cup
BOILING WATER: 1 cup
VANILLA EXTRACT : 2 tsp
SOFTENED VEGAN BUTTER: 1/2 cup
COCOA POWDER: 2-3 cup
POWDERED SUGAR: 4-5 cups
VANILLA EXTRACT: 1 tsp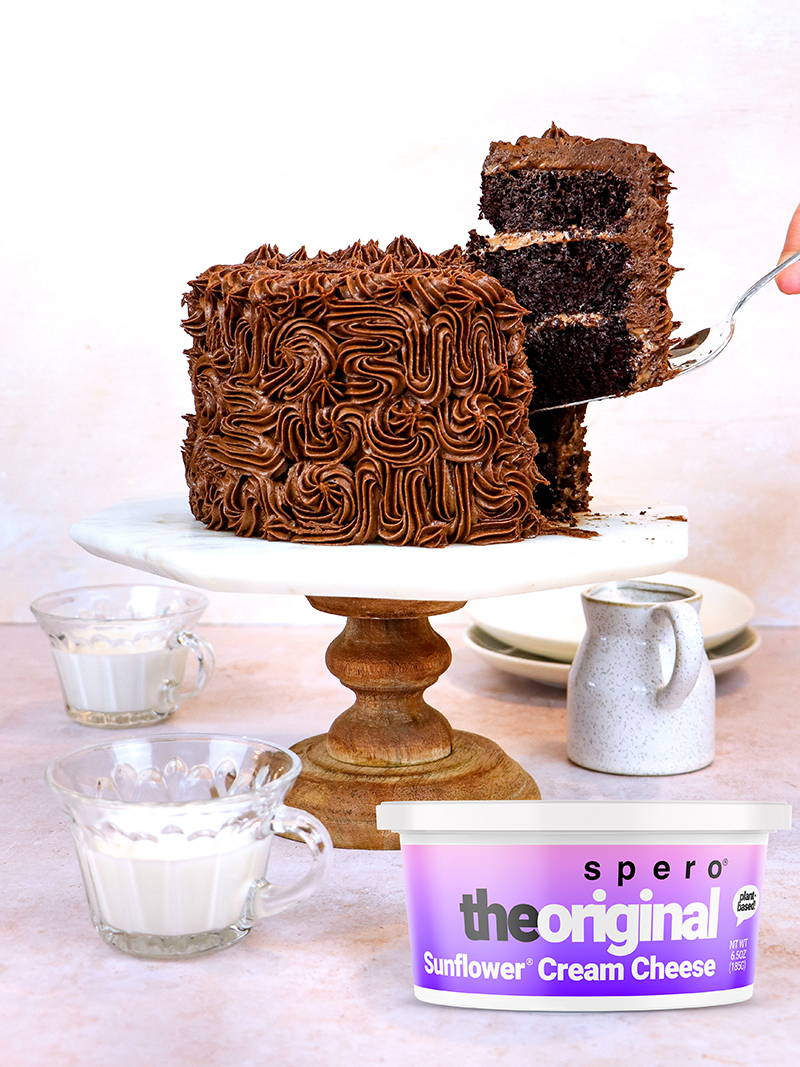 PREHEAT oven to 350F. Lightly grease and line three 6" cake pans
WHISK the almond milk and apple cider vinegar together in a large bowl. Set aside
MIX the flour, cocoa powder, sugar, baking powder, baking soda, and kosher salt until evenly combined in a separate bowl
ADD the olive oil, boiling water, and vanilla extract in the almond milk bowl, whisk

to combine, then pour into the flour mix bowl, mix just until combined, but a smooth batter

EVENLY

distribute the cake batter into the prepared cake pans

BAKE

for 24-30 minutes, or until a toothpick inserted into the center comes out clean

LET

cool in the cake pans for 10 minutes, then transfer to a wire rack to cool completely before frosting

BEAT

the butter and cream cheese until smooth, about 1-2 minutes in the bowl of a stand mixer with a paddle attachment

ADD

the powdered sugar, starting at 4 cups, then beat on medium speed until fluffy and smooth, about 3-4 minutes

ADD

more powdered sugar if the frosting seems too soft

FOLD

in the vanilla extract, then frost the cooled cake layers. Enjoy!