Creamy Ravioli
clouds of creamy cheese stuffed in beet ravioli with pesto
FLOUR: 1¼ cup, all purpose
SEMOLINA FLOUR: 1 cup semolina flour
SALT: ½ tsp
WATER: ½ cup
BEET JUICE: ¼ cup
EVOO: 2 tsp
PARSLEY AND PUMPKIN SEED PESTO

PUMPKIN SEEDS: ½ cup
PARSLEY: 2 cups
LEMON: 1, juiced
GARLIC: 2 cloves
EVOO: ½ cup
NUTRITIONAL YEAST: 1 tbsp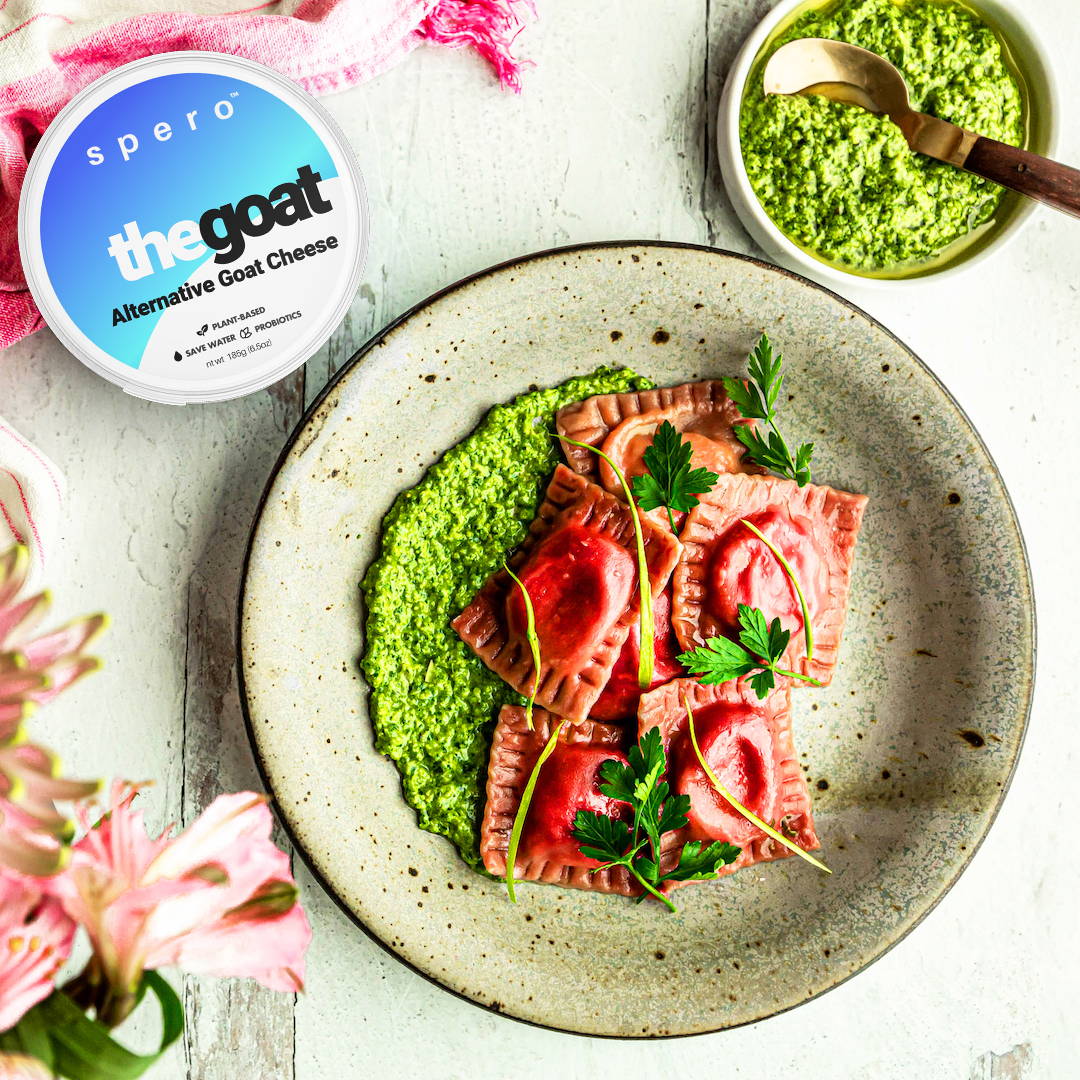 MIX all ingredients together in a bowl until a dough is formed.
TURN out dough onto a floured surface & knead for 5-8 minutes, until smoooth & elastic.
PLACE dough in a bowl, cover w/ a towel, and put it in the fridge for 30 min. to an hour.
DIVIDE dough into 4 equal portions & roll each section out onto the floured surface w/ a rolling pin (or wine bottle!) until each section is approx. a foot & a half by 4 inches.
DOLLOP filling down the length of 1 dough sheet (approx. 6 per sheet!), spaced evenly.
Brush a little water around the cheese center & place a second sheet of dough on top.
PRESS gently around each ravioli to help push out the air & seal.
CUT raviolis with a ravioli stamp/cutter & place onto a floured surface.
PRESS edges of the raviolis together with a fork to finish sealing them.
BRING a pot of salted water to a boil & pop your raviolis in.
TURN down heat to low & cook for 8 min. *they're extra delicate - don't cook in a rolling boil!
DRAIN & drizzle lightly w/ oil to prevent sticking.
PUREÉ ingredients in a food processor.
HEAT gently in a small pan w/ a little water before serving.
SPOON warm pesto over raviolis & garnish w/ parsley, salt, & pepper (to taste!)
INDULGE in your new fave fluffy, creamy, pesto-y ravioli!