Latkes
crispy potato pancakes served with creamy Spero® sauce
serves 4.
POTATOES:

2 cups, packed, grated, & drained

WHITE ONION:

½

GREEN ONION:

sliced, for garnish

FLOUR: ⅓

cup, all purpose

PLANT-BASED MILK:

3 tbsp

CORNSTARCH:

1 tbsp

BAKING POWDER:

½ tsp

SALT:

1¼ tsp

BLACK PEPPER:

to taste

OIL:

canola, olive, or coconut, for frying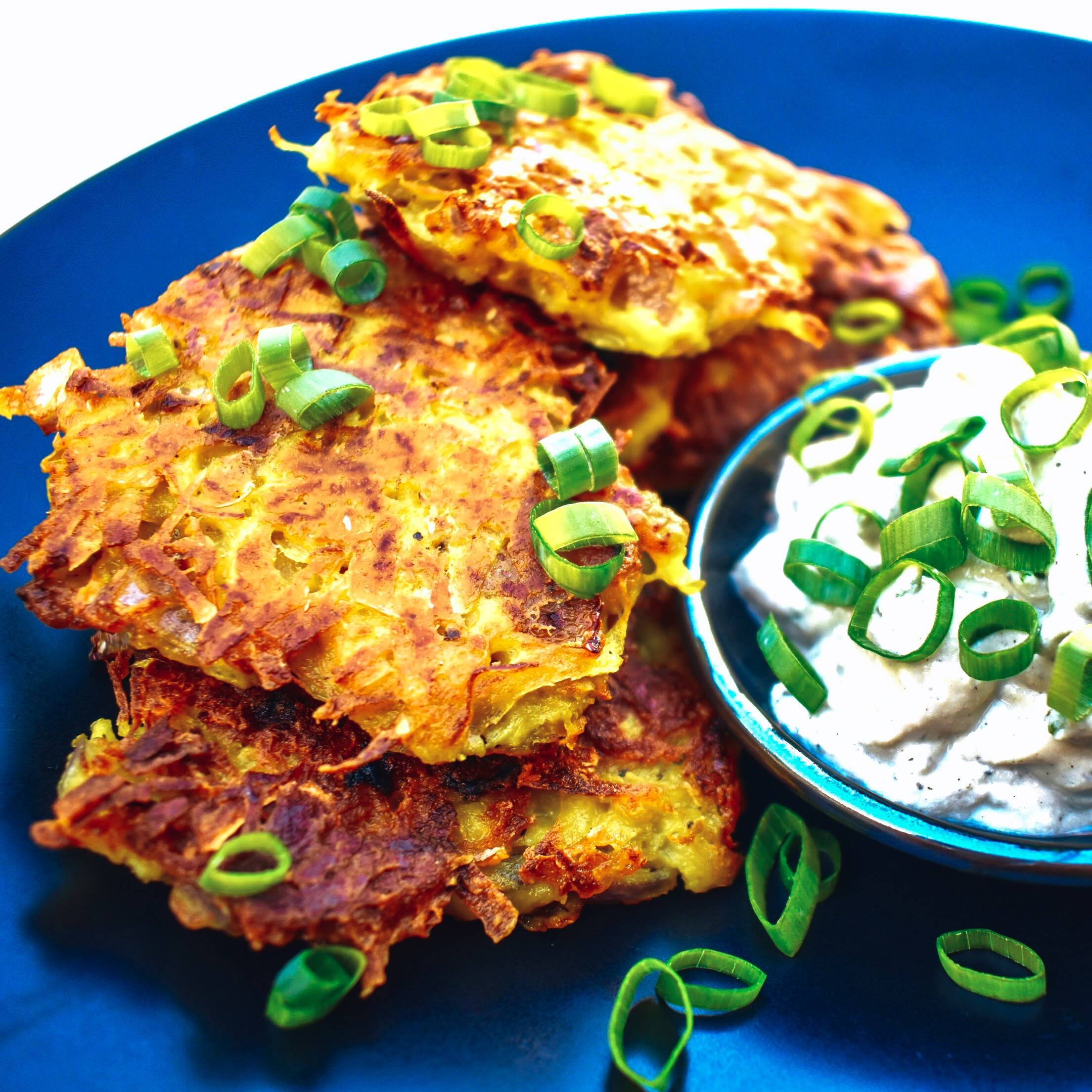 GRATE

potatoes into fine slivers.

RINSE

potatoes under cold water then squeeze out any extra water.

SLICE

onion into small cubes.

MIX

potatoes, onion, milk, flour, cornstarch, salt, baking powder, & pepper to taste.

ADD

oil to a pre-heated pan.

SMUSH

latke mixture (¼-⅓ cup at a time) into balls with your hands or a spoon & press into pancake shape, about ¼ inch thick.

PUT

latkes into the pan & fry 3-4 min. on each side until golden brown.

LAY

latkes onto a paper towel to drain excess oil, if necessary.

SPRINKLE

w/ salt & pepper.

GARNISH

w/ sliced green onion.
WHISK

Spero® Sunflower® Cheese w/ water until you reach desired consistency.


ADD

lemon juice or white vinegar to add tanginess, to taste. (optional)

DOLLOP

extra Spero® Sunflower® Cheese on top (or just dip your latkes straight into the tub)!

INDULGE

in your new fave crispy, crunchy, festive latkes!
do you have a recipe to share?