Scalloped Potatoes
potatoes au gratin, layered in creamy sauce and baked to crispy perfection
POTATOES:

3 lbs, we used Yukon gold!

Spero Sunflower Cream Cheese

:

2 tubs, The Original :D

DIJON MUSTARD:

1 tbsp

WHITE MISO PASTE:

1½ tsp

NUTRITIONAL YEAST:

½ cup

PAPRIKA:

¼ tsp

GARLIC:

1 clove, minced

APPLE CIDER VINEGAR:

1 tsp

VEGGIE BROTH:

1¼ cups (or use water or plant based milk)

SPICES:

Salt & pepper, to taste

PLANT-BASED PARMESAN:

¾ cup, grated
PANKO:

¾ cup

GARLIC:

2 cloves, minced

OLIVE OIL:

2 tbsp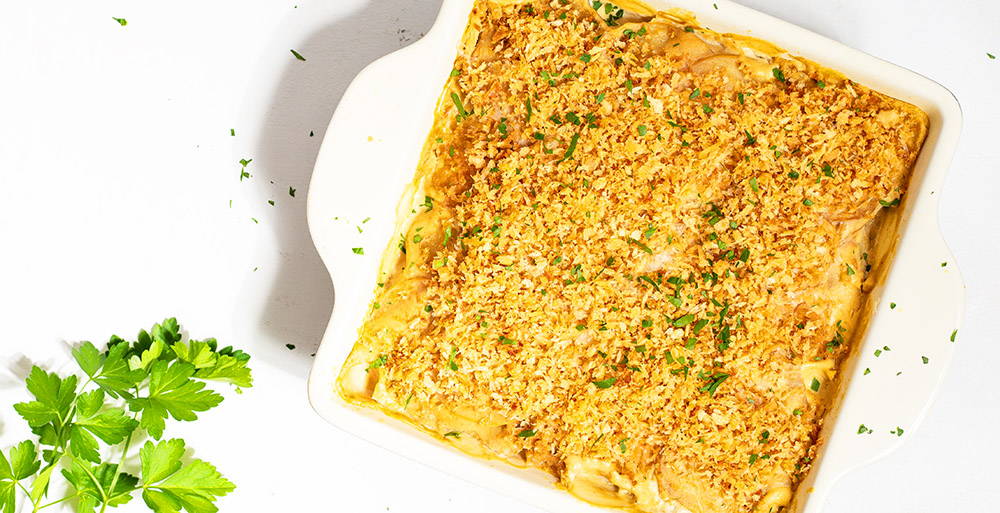 PREHEAT

oven to 375°F.

ADD

panko, olive oil, & garlic to a skillet & cook over medium heat. Stir often until breadcrumbs are golden brown. Transfer to a bowl & set aside.

BLEND

Spero Sunflower Cream Cheese

, mustard, miso, nutritional yeast, paprika, garlic, apple cider vinegar, veggie broth, & spices in a blender or food processor until smooth.

TASTE

& season as you like! The sauce should be a pourable consistency. *Add more water or broth if needed!

WASH

potatoes & slice thinly. Aim for ⅛" thickness. *Use a mandoline if possible!

TOSS

potato slices in the sauce in a large bowl until evenly coated.

TRANSFER

half of the potatoes to a 8x8" baking dish.

ARRANGE

potatoes so that layers reach the sides of the dish & the top is as flat as possible.

SPRINKLE

with salt, pepper, & half of the parmesan. Layer the remaining potatoes on top.

POUR

additional sauce into the corners & crevices, then top with the remaining parmesan & breadcrumbs.

COVER

the dish with foil & cook for approx. 45 min.

REMOVE

foil & cook for an additional 10-15 min. Test for doneness by poking with a sharp knife. The potatoes should be completely tender.

INDULGE

in your new fave scalloped potatoes!
do you have a recipe to share?