Stuffed Shrooms
grilled artichoke and goat cheese stuffed mushrooms
serves 4.

OLIVE OIL: 2 tbsp
CARROT: 1 (medium), coarsely grated
GARLIC: 2 cloves, minced
SCALLIONS: 4, trimmed & chopped
JALAPEÑO PEPPER: 1, de-seeded & finely chopped
BABY BELLA MUSHROOMS: 12 (medium) cleaned - remove & finely chop the stems!
BABY SPINACH/BABY KALE: ½ cup
ARTICHOKE HEARTS: ¼ cup, marinated & grilled, chopped
Spero Sunflower™ Cream Cheese: 1 tub, The Goat :D

BREADCRUMBS: 4 tbsp
FRESH CHIVES: 2 tbsps, finely chopped
NUTRITIONAL YEAST: 1 ½ tbsp (optional)
SPICES: salt & pepp, to taste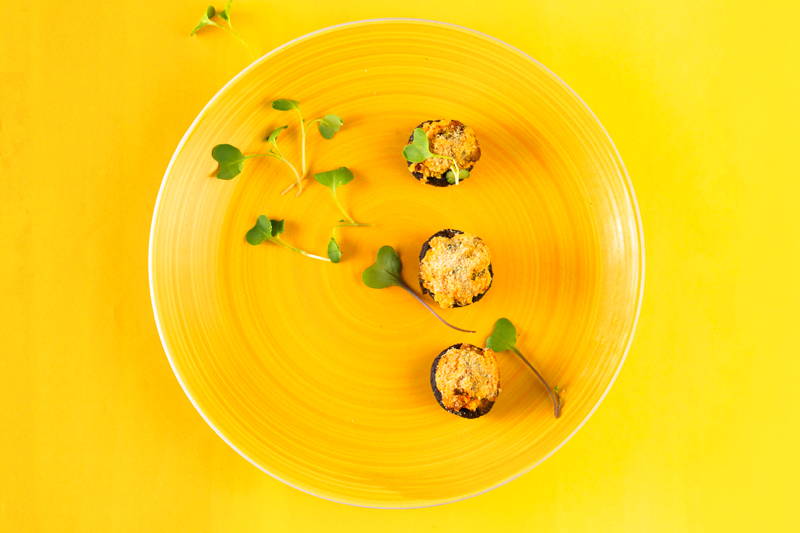 PREHEAT oven to 375°F & lightly oil a baking sheet. (Parchment paper also works!)
ARRANGE mushroom caps onto the baking sheet & lightly brush or spray w/ oil.
BAKE for approx. 8-10 min., or until softened.
MEANWHILE heat oil in a skillet over medium-low heat.
ADD carrots, garlic, scallions, & jalapeños.
SAUTÉ, stirring often, until softened, approx. 2 min.
ADD stems & continue cooking until tender, about 3 min.
STIR in the spinach until wilted.
TRANSFER mixture to a bowl & add artichokes, Spero Sunflower™ Cream Cheese, 2 tbsp

breadcrumbs, chives, & nutritional yeast (optional).

STIR until just combined & season as you like!
SPOON filling into the mushroom caps.
TOP w/ remaining breadcrumbs & bake for approx. 15-20 min., or until the filling is golden & bubbly.
INDULGE in your new fave oh-so-satisfying, savory, stuffed mushrooms!