Yellow Curry
flavorful yellow curry with veggies and tofu cubes
serves 4.

ONIONS: ½ cup, diced
GARLIC: 2 cloves, chopped
FIRM TOFU: 8oz, diced
Spero Sunflower Cream Cheese: ¾ cup, The Original :D

WATER: 3½ cups
YELLOW CURRY PASTE: 3 tbsp
GINGER: 1 ½ tsp, grated
RED BELL PEPPER: ½, diced
GREEN BELL PEPPER: ½, diced
GREEN PEAS: ½ cup
CARROT: 1, diced
LARGE RED POTATO: 1, diced
OLIVE OIL: 1 tbsp
LIME JUICE: 1 tsp
SALT: ½ tsp
PEPPER: ¼ tsp
SUGAR: 1 tsp
FRESHLY CHOPPED PARSLEY: for garnish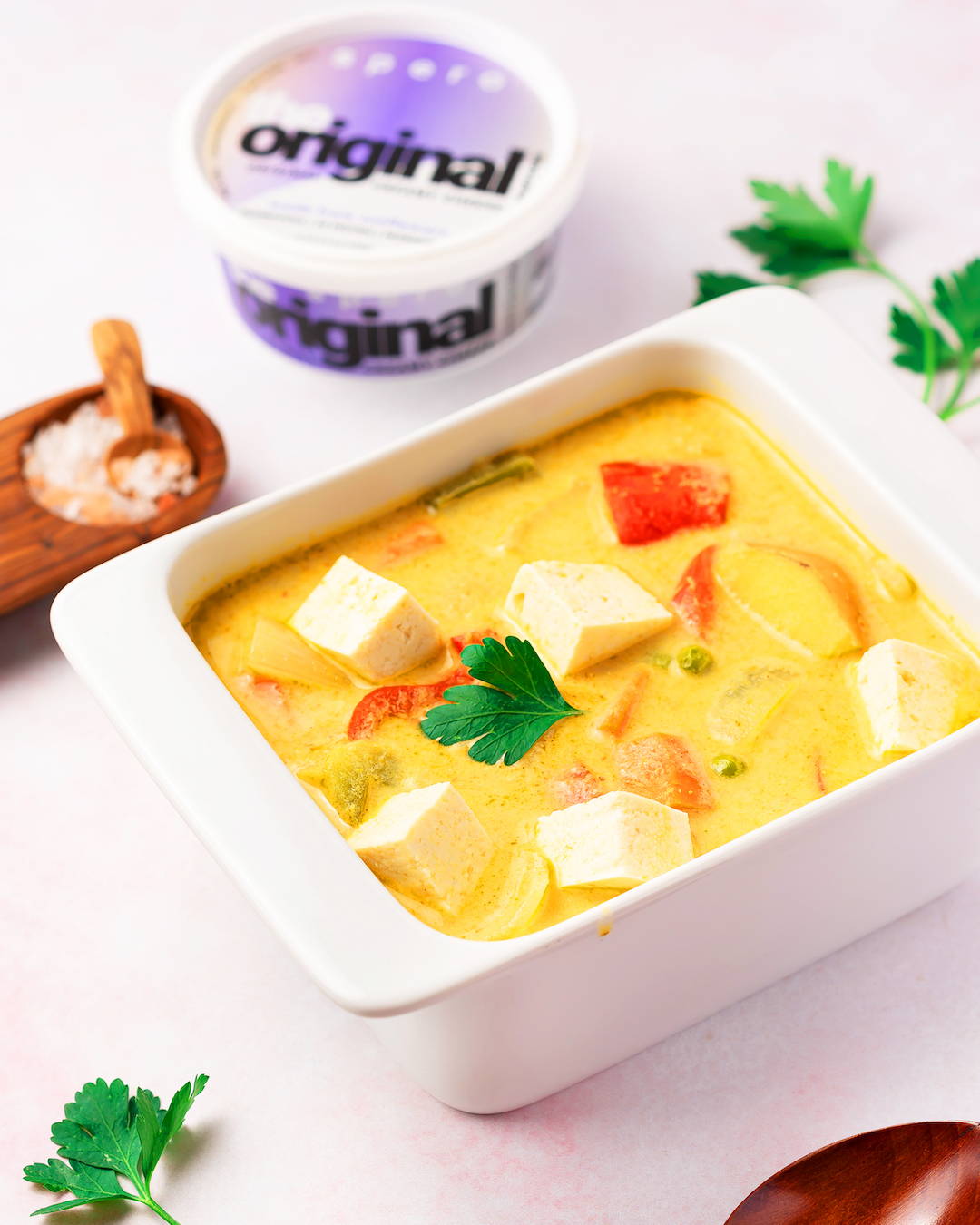 COMBINE Spero Sunflower Cream Cheese w/ ½ cup water in a small bowl & set aside.
HEAT a large skillet over medium heat & add olive oil, garlic, ginger, & onions. Sauté for 2 min.
ADD yellow curry paste, prepared cheese mixture, remaining water, salt, pepper, & diced veggies.
BRING to a boil, then reduce heat to medium low & cook for 15 min.
ADD tofu & simmer for 2 min.
REMOVE curry from heat, add lime juice, give a quick stir, & top with freshly chopped parsley.
SERVE the tofu yellow curry w/ rice.
INDULGE in your new fave creamy, dreamy, oh-so-flavorful yellow curry!
do you have a recipe to share?