Butternut Tacos
tacos stuffed with pumpkin al pastor
serves 2.
TOMATILLOS: 1½ lbs
ONION: ½ cup, minced
GARLIC: 2 cloves
CILANTRO LEAVES: ½ cup
LIME JUICE: 1 tbsp
SERRANO CHILE: 1
SPICES: salt & pepper, to taste
PUMPKIN AL PASTOR FILLING
SQUASH: 6 cups, peeled & cut into small cubes
SEA SALT: 1 tsp
BLACK PEPPER: ¼ tsp
TACO SEASONING: 2 tbsp
OLIVE OIL: 2 tbsp
TORTILLAS: 6-8, we used corn!
BLACK BEANS: 1 can, drained
AVOCADO: 1, sliced
CILANTRO: 6-8 sprigs
PURPLE CABBAGE: ¼ cup, thinly sliced
LIME: 1, cut into wedges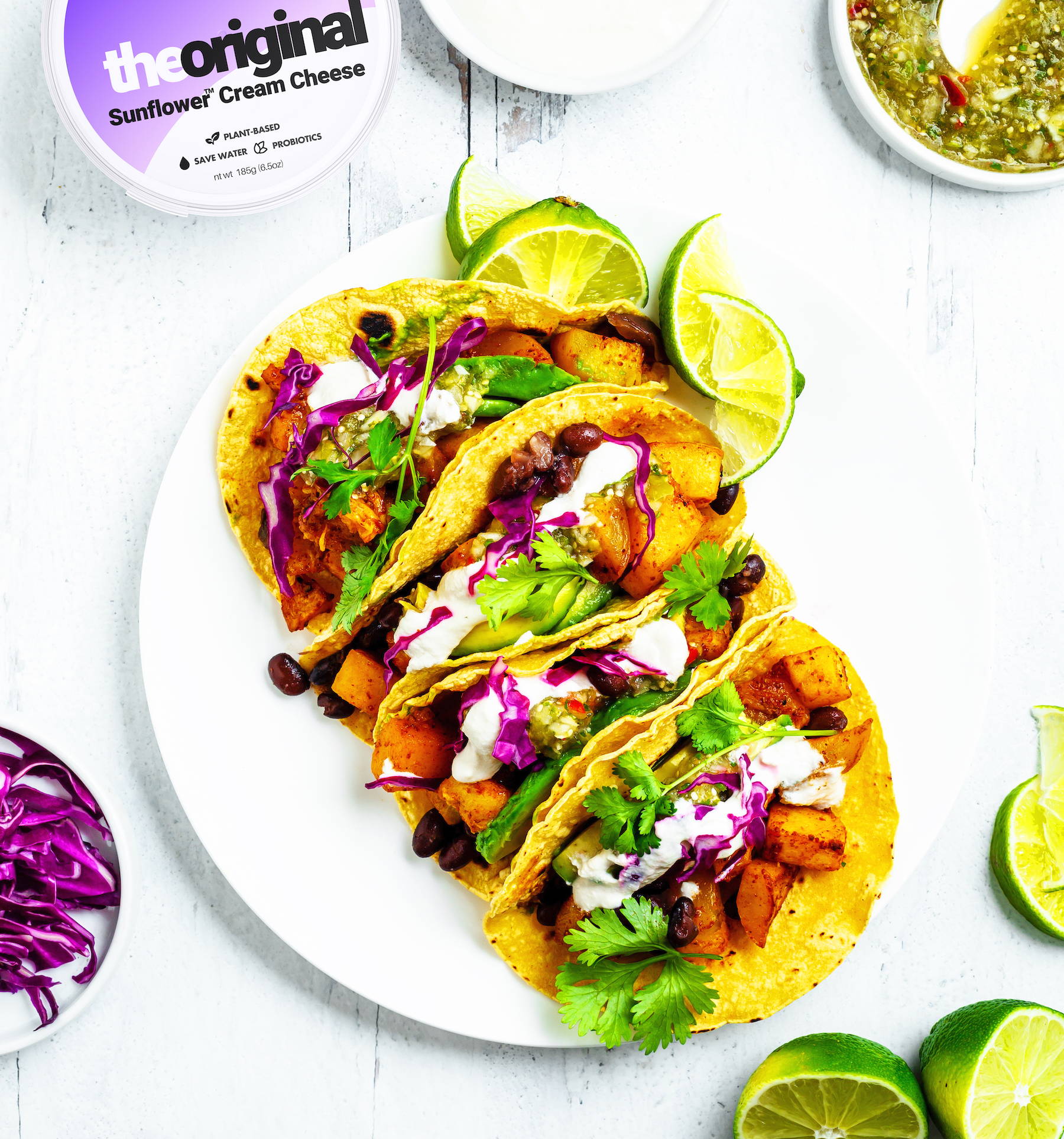 BRING a pot of water to a boil.
PEEL papery tomatillo skins, add tomatillos to the pot, & boil for 5 min.
TRANSFER tomatillos to a food processor w/ your salsa ingredients & process until chunky.
PREHEAT oven to 400°F
TOSS squash w/ sea salt, black pepper, taco seasoning, & olive oil until well combined.
SPREAD squash onto a sheet pan & roast for 20 min. or until browned & tender.
MIX lime crema ingredients - Spero® Sunflower® Cheese, lime juice, & sea salt - in a small bowl.
HEAT a skillet over medium heat & place tortillas in the skillet until lightly cooked on both sides. *wrap cooked ones in a clean cloth to keep warm!
FILL tortillas w/ black beans, squash filling, & avocado & garnish w/ lime crema, tomatillo salsa, cilantro, purple cabbage, & a squeeze of lime!
INDULGE in your new fave stuffed, insanely flavorful tacos!
do you have a recipe to share?