Carrot Lox Bagel
toasted bagel topped with Spero Sunflower Cream Cheese & smokey carrot lox
serves 2.

CARROTS: 4, large
SEA SALT: 1 ½ -2 cups, coarse
VINEGAR: 1 tsp
SALT: ¼ tsp
LIQUID SMOKE: 1 tsp
PLANT-BASED OIL: 1 tbsp, we love avocado or EVOO
BAGELS: 2, we love an everything
VEGGIES: sliced, your choice. We used cucumbers, red onions, and cherry tomatoes!
CAPERS: 1 tbsp
PARSLEY: 3-4 sprigs, to garnish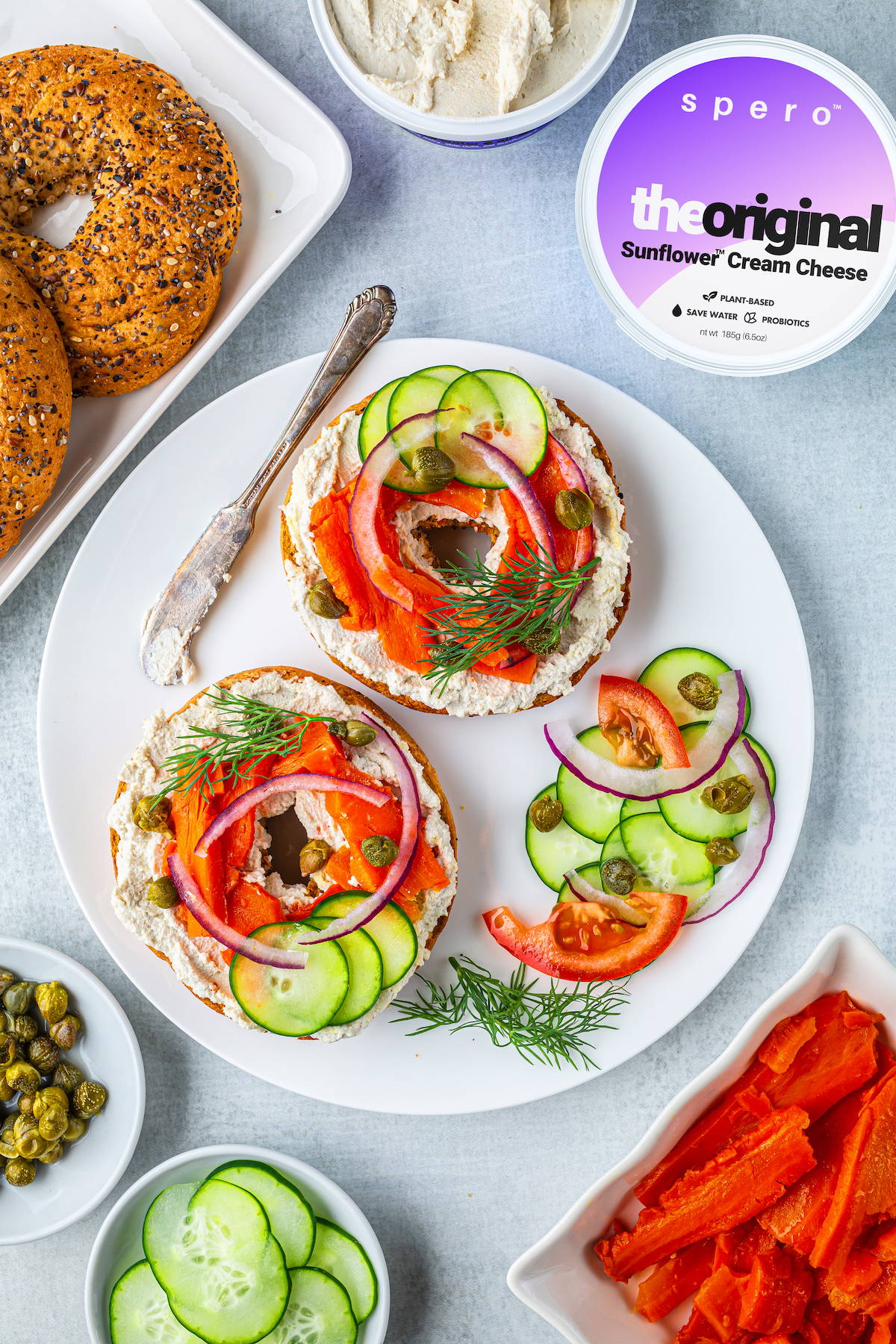 PREHEAT oven to 375°F.
SPRINKLE a thick layer of sea salt across the bottom of a pyrex dish.
WASH carrots (but don't peel!) & place them on top of the sea salt. Sprinkle more salt on top!
ROAST carrots in the oven for 1 hour.
REMOVE carrots from the dish & let 'em cool!
PEEL off the salt crusted skin (gently!) to reveal the tender, roasted flesh inside.
PEEL carrots, then slice lengthwise into thin strips.
PLACE slices into a small mixing bowl & top w/ vinegar, salt, liquid smoke, and oil.
MARINATE overnight.
TOAST bagels.
SPREAD Spero Sunflower Cream Cheese thickly (the cheesier the better!) onto sliced bagels.
TOP with carrot lox & all your yummy toppings!
INDULGE in the most creative, crunchy, creamy bagel sammie of your life!
do you have a recipe to share?