Choco Cheesecake
chocolatey, creamy, cheesy goodness!
prep time: 20 minutes. cook time: 15 minutes.
serves 3.
PECANS:

¾ cup pecans

DATES:

¾ cup dates

COCONUT OIL:

2 tsp
Spero Sunflower Cream Cheese: 1½ tubs, The Original :D

AGAVE SYRUP:

½ cup

PLANT-BASED MILK:

1 cup

AGAR POWDER:

1 tbsp

VANILLA EXTRACT:

1 tsp

LEMON JUICE:

1 tbsp

COCOA POWDER:

2 tbsp *only add if using The Original!
WHIPPED CREAM:

½ cup, we used plant-based!

CHOCOLATE SHAVINGS:

2 tbsp, we used plant-based!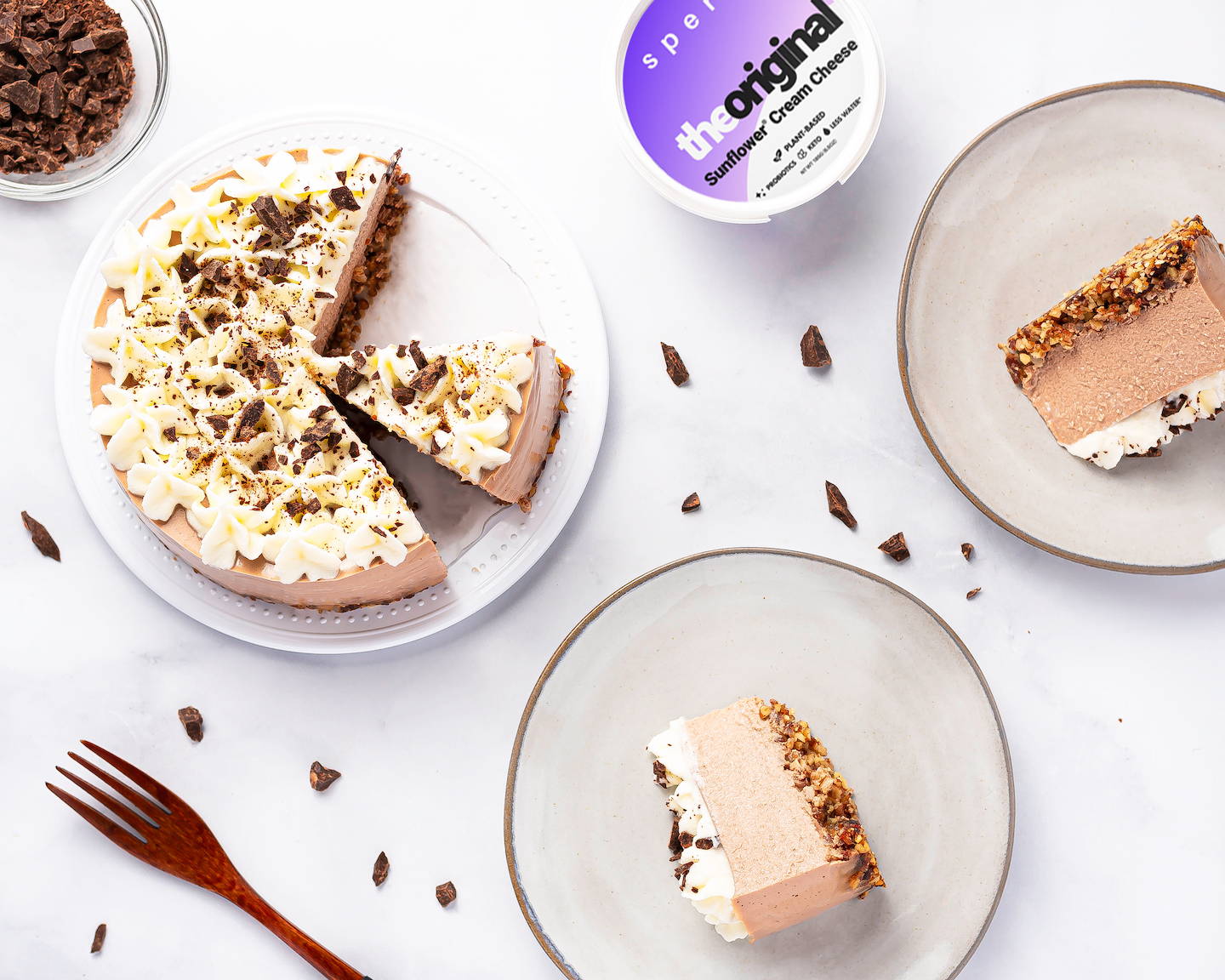 PRE-HEAT

oven to 350ºF.

BLEND

pecans, dates, & coconut oil in a food processor until small bits remain & it forms into a ball, then remove & set aside.

CUT

out parchment paper into a round shape for the cheesecake base.

PLACE

pecan & date crust into a 6-inch spring-form pan & carefully press w/ fingers to distribute. *Pack down w/ a small glass or back of a spoon!

BAKE

crust for approx. 10 min, then remove & keep aside.

COMBINE

milk, cocoa powder (if using!), agave syrup, & agar powder in a small saucepan over medium-high heat.

WHISK

continuously & bring to a boil, then bring heat down to low & simmer for 2 min. (still whisking!), then remove from heat.

MIX

Spero

Sunflower Cream Cheese in a separate bowl, then add milky mixture little by little & mix.

POUR

mixture over the crust!

TAP

(gently!) the spring-form pan over the counter to remove any bubbles.

SET

pan aside to cool for 20 min. uncovered, then cover with foil & place in the fridge to chill for 6 hours or overnight.

LOOSEN

the cheesecake by running a knife along the edge & remove from pan.

LAYER

w/ whipped cream & chocolate shavings.

INDULGE

in this creamy, dreamy, cheesy cake!
do you have a recipe to share?