Cinnamon Roll
ooey gooey cinnamon rolls with cream cheese icing
PLANT-BASED MILK:

1 ½ cup, we used almond!
SUGAR: 4 tbsp
INSTANT YEAST: 2 ½ tsp
EGG REPLACER: 1 tbsp
ALL-PURPOSE FLOUR: 3

½ cups
BAKING POWDER: 1 ½ tsp
SEA SALT: 1

¼

tsp
PLANT-BASED BUTTER: 6 tbsp

WATER:

1 cup
CINNAMON:

3 tsp

BROWN SUGAR:

3 tbsp

RAISINS:

1 tbsp

PLANT-BASED BUTTER:

¼ cup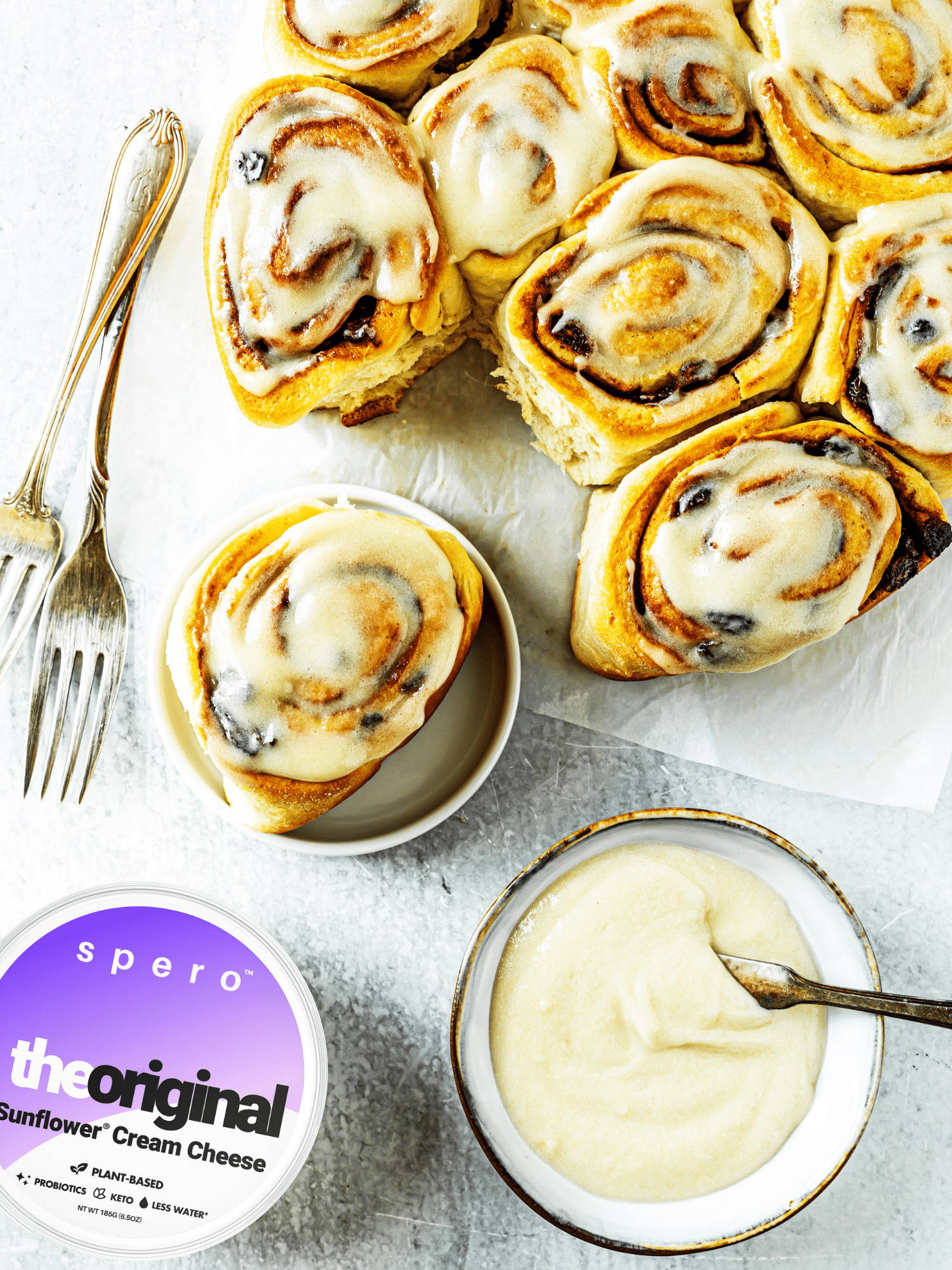 MIX the plant-based milk, sugar, instant yeast and egg replacer together in a small sauce pan.
HEAT mixture gently over very low heat until warm, but not hot. Allow to sit for 5 minutes.

ADD

the flour, baking powder, and sea salt to a large mixing bowl and mix well.
ADD the milk mixture and the melted plant-based butter.
STIR well until a shaggy dough is formed.
TURN the dough out onto a floured surface and KNEAD for 5 minutes until smooth and elastic.
FORM the dough into a ball and place it into a clean oiled bowl.
COVER with plastic wrap and all ow to sit for 1 1/2 hours in a warm spot until doubled in size.
PUNCH down the dough and transfer to the refrigerator overnight.

WHISK

Spero Sunflower Cream Cheese

& maple syrup w/ water.
STIR

together the cinnamon and brown sugar.
MELT the plant-based butter gently over low heat.
REMOVE the dough from the refrigerator and roll out onto floured surface into a 9"x12" rectangle.
BRUSH the surface of the dough with the melted butter and SPRINKLE the cinnamon sugar evenly over the surface.
SPREAD the raisins evenly over the surface of the dough.
ROLL the dough up tightly so that the roll follows the longer edge of the rectangle.
CUT the roll into 2" pieces to make about 9-10 pieces.
PLACE the rolls into a parchment lined pan– we like to use a 9" round cake pan!

COVER

the rolls with plastic wrap and allow to sit for 1 hour in a warm place to rise.

PREHEAT

the oven to 375˚F.

REMOVE the plastic and bake in the preheated oven for 20-25 minutes.


COOL

for 15 minutes before icing.
WHISK together the powdered sugar, Spero Sunflower Cream Cheese, plant-based butter, and sea salt until a creamy icing is formed.
BRUSH the icing onto the warm cinnamon rolls.
INDULGE in the most delicious, ooey, gooey cinnamon rolls you ever did eat.
do you have a recipe to share?