Pop Tarts
mixed berry stuffed pop tarts
colorful, fruity, & stuffed with creamy Spero filling.
serves 6.
PASTRY FLOUR: 1 ¼ cup
MAPLE SUGAR: 1 tbsp
SALT: ½ tsp
COCONUT OIL: ½ cup, cold
WATER: ½ cup, ice cold
Spero Sunflower™ Cream Cheese: ⅓ cup, The Original :D
BERRIES: ½ cup, pureed
MAPLE SYRUP: 2 tbsp
COCONUT OIL: 3 tbsp, liquid
MAPLE SYRUP: 1 tbsp
BERRIES: 2 tbsp, pureed
SPRINKLES: ¼ cup, we love a rainbow vegan sprinkle!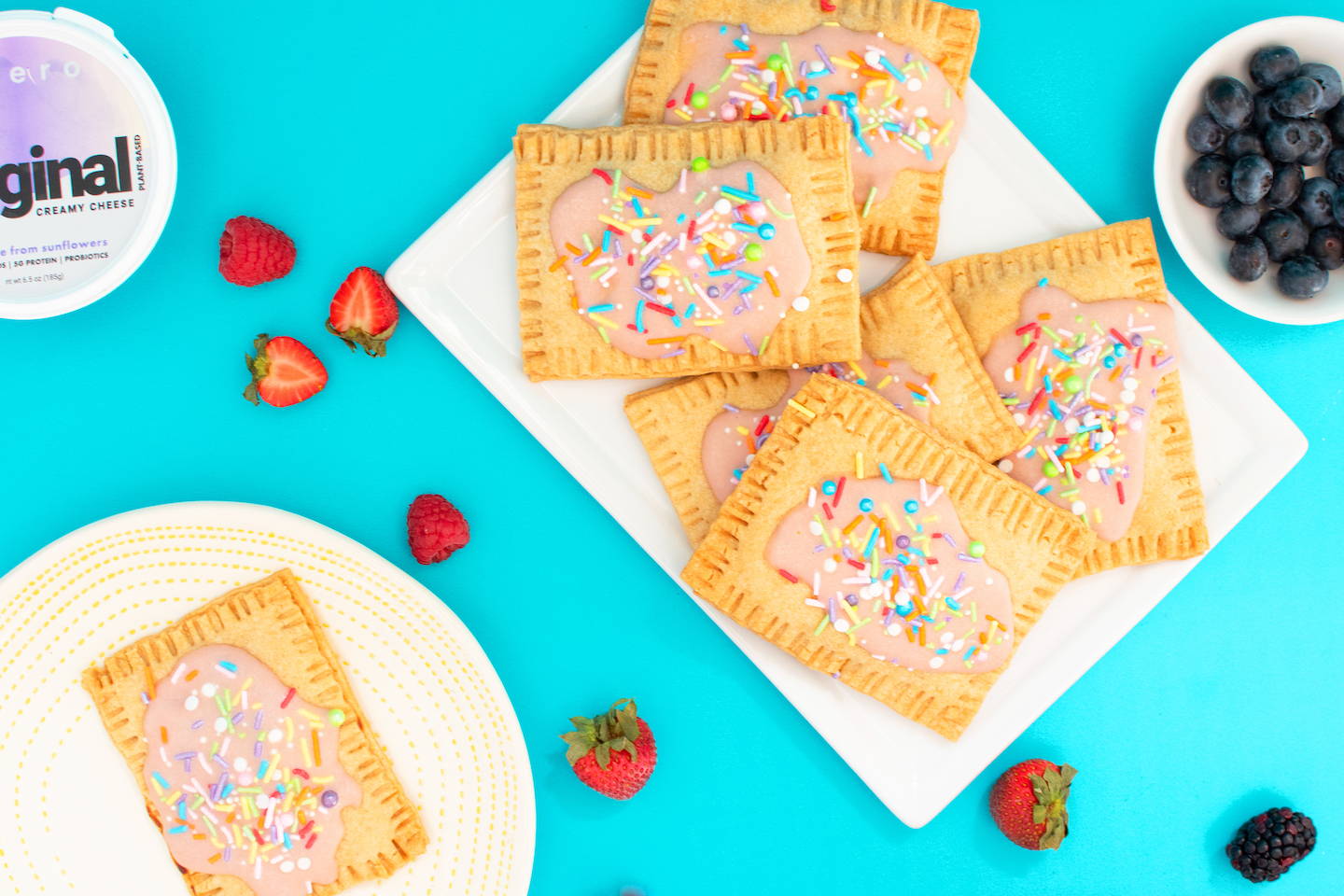 PULSE flour, maple sugar, & salt in a food processor just a few times.
ADD coconut oil & pulse 4-6 times, until crumbly.
ADD ¼ cup ice cold water & pulse to combine. Continue to add ice water 1 tbsp at a time until dough begins to come together in a ball.
LAY out a large sheet of parchment paper & place dough on top.
FORM dough into a rectangle.
PLACE another piece of parchment paper on top & slightly flatten dough.
TRANSFER to the fridge for 10 min.
WHISK Spero Sunflower™ Cream Cheese w/ pureed berries & maple syrup until combined.
PREHEAT oven to 375°F & line a baking sheet w/ parchment paper.
REMOVE dough from fridge. Roll dough with a rolling pin (or wine bottle!) into a 8x12 inch. rectangle, approx. ⅛-inch thick. Slice into twelve 3x4 inch. rectangles.
TRANSFER 6 dough rectangles onto the prepared baking sheet.
SCOOP 1 tbsp filing into the center of each & top with the remaining 6 dough rectangles.
CRIMP the edges of each pastry with a fork to seal.
POP baking sheet into oven & bake 30-35 min., until nice & golden.
REMOVE from oven & cool for 20 min.
WHISK

Spero Sunflower™ Cream Cheese

, coconut oil, maple syrup, & pureed berries.
DRIZZLE over all the pastries.
TOP with sprinkles.
INDULGE in the sweetest treat of your life!